Shopping Cart
Your Cart is Empty
There was an error with PayPal
Click here to try again
Thank you for your business!
You should be receiving an order confirmation from Paypal shortly.
Exit Shopping Cart
| | |
| --- | --- |
| Posted on November 13, 2017 at 8:10 PM | |
Fantasy as a Means of Revelation and Justice: Eve L. Ewing's Electric Arches
Reviewed by Santino DallaVecchia
I've come across a few calls for submissions recently that go out of their way to specify how
much they don't want genre pieces– fantasy, science fiction, horror, and just generally
speculative fiction. And while this makes sense– few lit journals are interested in work that's not
realism or at least realism-adjacent– it's also somewhat disheartening to see such huge swaths of
writing discarded out of hand, especially inasmuch as many notable works in the past decade do
dance around the edges of genre work. Karen Russell's Swamplandia! is a potent example, as is
the increased critical attention paid to Stephen King's work. Man Booker Prize winner Marlon
James is currently writing a fantasy trilogy.
And this is to say nothing of poetry. Many poets are increasingly comfortable incorporating
elements of genre work into their poems. I think, since poetry is itself so symbolic, it's a pretty
short intuitive leap to playing with imaginary things to represent a deeper truth, an escape from
the everyday into the desires and realities beneath it. This doesn't detract from poetry; it
enhances it, offers it the opportunity to grow past its ostensible limits. It's this willingness to
explore and ignore strictures about genre that makes Eve L. Ewing's debut collection, Electric
Arches, so remarkable. Though it's composed of words, it's got the visual variety and depth of a
graphic novel, not just because it incorporates images, but because she embraces the exploratory
possibilities of poetry in representing her own memories. In a brief introduction, she writes,
"Anyway, as I rode my bike I would narrate, in my head, all of my adventures…. In this way, my
block became the backdrop of infinite possibility. The space in my head was as real to me as the
dirt beneath my feet." Throughout the collection, she vividly re-creates this feeling, this sense of
the imagined real as being as deserving of space as the transcribed real. In many poems, she
splits between typed and handwritten text: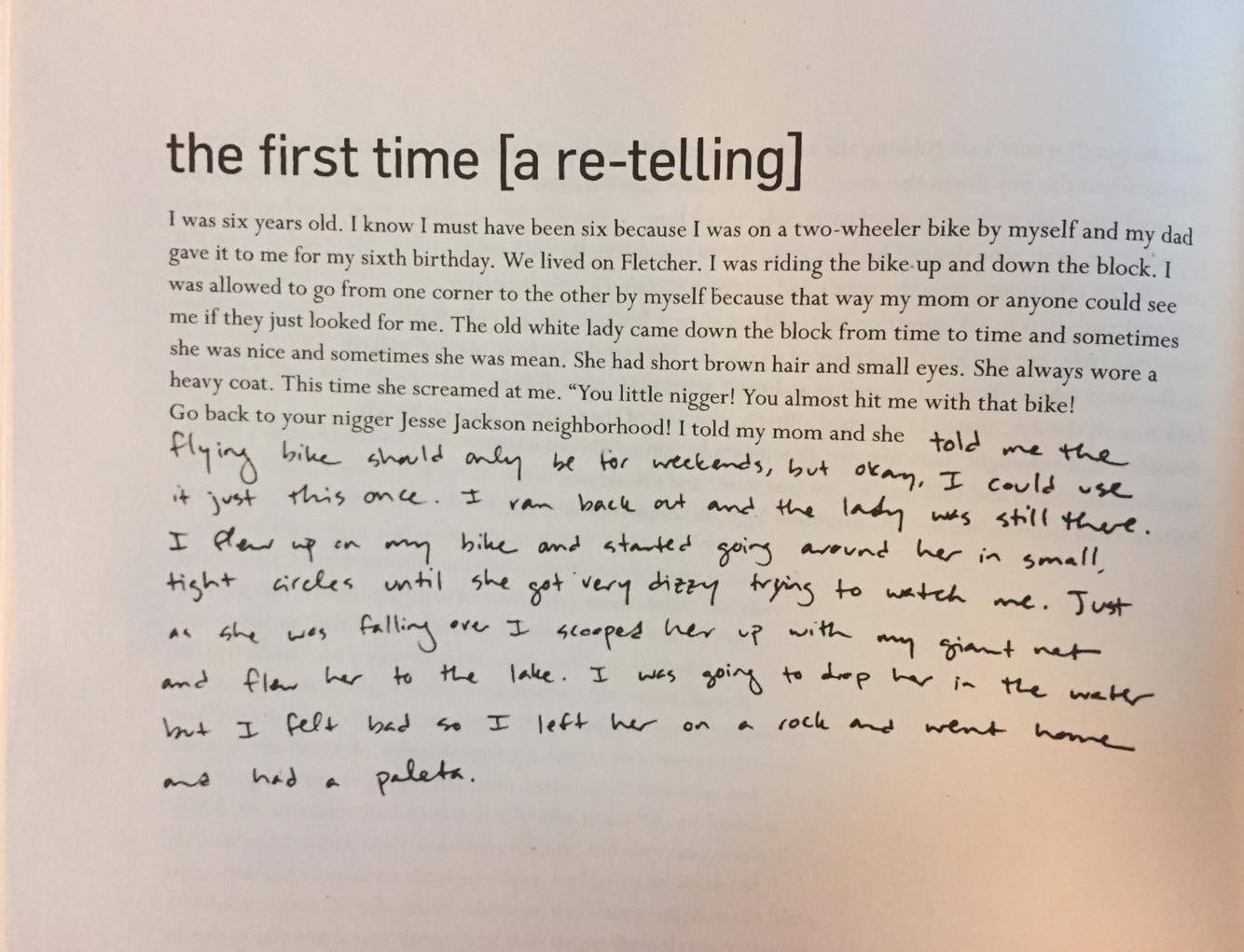 In each of these [a re-telling] poems, Ewing begins with a stark transcription of a memory in type
before finishing the story in her handwriting. Here, she takes the racist cruelty of a neighbor and
responds by using her bike to dizzy the old woman, and captures her in a giant net, hurling her
into a lake. This fantasy isn't an escape from reality, as is often the charge against the fantastical,
but is instead a re-aligning of reality to better match the justice deserved when a white person
uses a racial slur.
Using fantasy as a means of both emotional release and retroactive justice is a central facet of
Electric Arches. In a long prose segment, titled "The Device," she writes the story of a machine
built by a collaboration of a "hive mind of Black nerds, obsessive types, scientists and inventors
but also historians and archeologists and the odd astrologer here and there," to allow people in
the present to communicate with those in the past, all so that a fifth grade girl can ask this
poignant question: "What words can you offer us to help us be free as black people in a world
that does not love us?" The fantasy offers no out; instead, it gives us back reality, revealed for
what it is. Electric Arches is an essential work for our time, a genre bending book that uses
comic book exuberance and freewheeling concept building to unflinchingly explore the injustice
of racism and the complexity of human interactions. Eve L. Ewing heroically recasts the world to
reveal, right, and write through wrongs.
Electric Arches. Eve L. Ewing. Haymarket Books, September 2017.
ISBN: 9781608468560. Print. 94 pages. $16.00.
Categories: None
/